Modular Conductor System
Bundle & save with our Deluxe Modular System Conductor's Set, the package includes:
The base set [chair, double step podium & modular conductor stand] along with:
| | | |
| --- | --- | --- |
| QTY | Model | Description |
| 2 | MMB4 | 4' adjustable height Modular Bridge |
| 1 | MMWSM | Modular Work Surface Mount |
| 1 | MMKM | Modular Keyboard Mount |
| 1 | MMCH | Modular Cup Holder |
| 1 | MMLM | Modular Laptop Mount |
| 1 | MMPSS | Modular Power Strip Shelf |
| 1 | MMIPM | Modular iPad Mount |
| 1 | MCP | Modern Conductors Podium with Rails |
| 1 | MSCC | Modular System Conductors Chair |
| 1 | MSCS | Modular Directors (Conductor) Stand |
Deluxe Bundled price saves you over $115!
Everything the modern conductor would need! A La Carte Pricing Available.
Conductor's Chair
The conductors chair is an ergonomically correct unit constructed from molded foam over a steel framework providing more comfort and durability. Gas Assist height adjustment from 24" to 35" height and back tilt adjustment. The seat is 19" wide with a 2" thick foam cushion. The foot rail is constructed from 5/8" steel and is height adjustable for individual setting requirements. The reinforced base is 24" in diameter and has five heavy duty stainless steel glides for support. Chair seat and back are covered with a heavy duty fabric. Chair weight is 30 pounds.
Conductor's Stand
The conductors stand desk is for band is 24" X 30" and for choir is 16" X 24". The stand is constructed with a 1 1/4" light weight steel tubing with a height adjustable inner shaft. The music desk is available in clear acrylic or pebble finish. There is a 10" wide storage compartment on both sides of the center below the desk. The base is constructed from rectangular steel to give great support with insert wheels on the front for mobility. The stand has continuous height adjustment from 40" to 61"and can be put in at 180o so that the music desk can be used to write on the front while in the reverse position. Weight is 22 pounds.
Conductor's Podium
The Conductors Podium is constructed with 3/4" non slip deck (or optional carpet). The unit is joined together with channel angle aluminum so that all corners sealed and fastened to eliminate squeaking. The podium has two cut outs below step for easy lifting access to roll unit on built in wheels. Back rail is easy removable . Unit is available with optional two piece dual stacking connected units at no extra charge. Size: 45" W X 40" D X 12" H. Weight 60 pounds.
Component System Options
This Modular system is designed with a combination of bridge trays (3' to 8') with coupling clamps that attach firmly so that the components will not easily disengage. The bridges are three sided units that keep the cabling out of sight in a neat configuration without extra clamps. Power distribution is an option.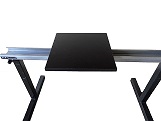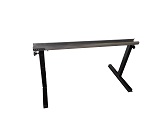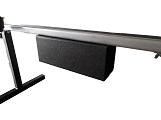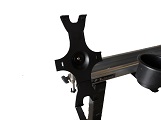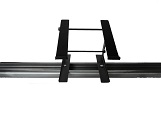 MODCS-B
Basic Modular System Conductor's Set includes:
Modular Conductor Stand, Modular System Conductor's Chair, and Modern Conductor's Dual Step Podium with Rails. Price: $1,395.00
WARRANTY: Five year warranty against manufacturer's workmanship and materials.
Please call for freight quote.
Customer Reviews





(0.00)

stars out of 5
(Only registered customers can rate)
Related Products
4 Total Related Products