THE RIO GRANDE VALLEY MUSIC STORE CHOICE FOR OVER 40 YEARS
Melhart Music has been the back bone of the Rio Grande Valley Music Community for forty years, and Melhart continues to understand the needs of our music community.

Melhart has music teachers on staff to help you with you music education.

Melhart has the most complete repair facilities in South Texas that not only includes band instrument repair, but also includes repair on violin and orchestra instruments, amplifiers, electronics, guitars, other fretted instruments, PA systems and all other musical equipment. Melhart Music goes far beyond the typical music store, and has one of the only full line service and sales facility in the state.

Melhart advances in music production and therefore has the ability to help our customers in performance as well as in education and service.

It is no wonder that Melhart has consistently been named in the Monitor poll for many years as the Best Music Store in McAllen.
YOUR BEST RENTAL PURCHASE PLAN
Melhart Music Center is the leading innovator of rental purchase plans in Texas. Melhart Music has introduced the leading brands of music instruments in the Rio Grande Valley and continues to be the leader in musical instrument brand inauguration in the Rio Grande Valley and in Texas. Melhart is the leader in service for band and orchestra instruments as well as electronic and stringed instruments. No where else in Texas and most of the United States will you find such dedication from personnel who are committed to making sure that your musical experience can be as good as you want it to be. Melhart Music Center is a Rio Grande Valley tradition and is the longest operating full music store in South Texas.
WHY RENT TO OWN
NO INTEREST - RENT UNTIL YOU OWN
Returnable anytime, 100% of rent applies toward rental or step up instruments. Rental agreements are registered with the Department of Licensing and Regulation. Instruments are Band Director Approved Name Brand Instrument. Melhart is unsurpassed in the Rio Grande Valley.
Rio Grande Valley's only authorized Yamaha dealer
McAllen's only Authorized Gemeinhardt dealer
McAllen's only authorized Vic Firth dealer
McAllen's only authorized Pearl dealer
Rio Grande Valley's only authorized Adamson dealer
McAllen's only authorized Buffet dealer
Melhart is also an authorized dealer for Bach, Selmer, Normandy, Armstrong, King, Conn, and many other instrument brands.
Early Cash Pay Off
Service Policy covers instrument damage with out deductible*
Includes cases
Includes mouthpieces
Includes drum heads and sticks
Replacement Policy*
Replaces instrument if burned or stolen
Auto Pay with bank or credit card*
Repair Loaner available*
Upgrade instrument and get full equity credit*

*Some conditions apply, come into Melhart Music Center for complete details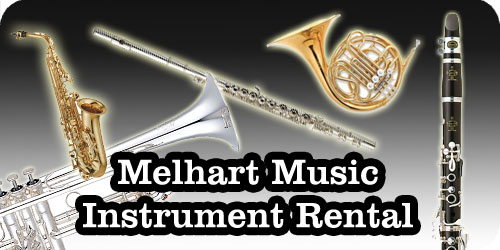 ---